Keith White, Senior Vice President, Gap Inc. Loss Prevention & Corporate Administration oversees Loss Prevention, Corporate Security, Facilities Services, Corporate Services, and Business Continuity Planning for the company. Keith joined Gap Inc. in 2000, and was promoted to his current position in 2005.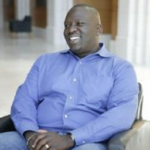 Under Keith's leadership, Loss Prevention has implemented best-in-class strategies to address loss. The organization has experienced tremendous growth and become more closely aligned with each brand's field organization. This evolution has resulted in decreases in shortage, the development of training and awareness campaigns to support stores and enhancements to the distribution and logistics loss prevention processes.
Keith has also led the transformation of Business Continuity Planning, establishing a company-wide plan and structure for emergency preparedness and response. Working closely with cross-brand, cross-functional teams, BCP has successfully supported the company and its employees through a number of major crises including Hurricane Katrina, tornadoes, wildfires, and flooding.
With a professional career that spans more than 25 years, Keith has also held positions at Target, from 1989 to 2000.
Keith is Chairman of the Board of Directors for the Bay Area American Red Cross Chapter and he is also an advisor to the International Organization of Black Security Executives (IOBSE) Board of Directors.
Keith holds a B.A. in Law Enforcement Administration (Western Illinois University) and a Masters of Criminology degree (Chicago State University). Keith and his wife Rose reside in Livermore, California. They have two daughters Christina a graduate of Florida A&M University, Brittany who is a recent graduate of Florida A&M University and is now pursuing an MBA at Western Illinois University and a son Joshua who is a junior at Bethune-Cookman University