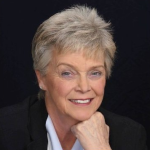 Shirley has more than thirty five years in law enforcement and private sector security management. Currently serving as Vice President of Investigations and Consulting for SMGI Worldwide. Formerly Shirley served as CSO for Kendall-Jackson Family Enterprises in an industry (Fine Wines of the world) that few have the opportunity to learn the security needs/specifics of Viticulture security.
This is one industry that every element of supply chain security can be applied. Viticulture spans the scope of agriculture, food handling, transportation, warehousing and every element that applies to each of those specific areas. Also served as CSO for nationwide financial institution and Manager of Executive Protection for Bank of America.
Shirley Pierini CPP, PSI is a past president of ASIS International the leading organization for security professionals, with more than 38,000 members worldwide. Founded in 1955, ASIS is dedicated to increasing the effectiveness and productivity of security professionals by developing educational programs and materials that address broad security interests, such as the ASIS Annual Seminar and Exhibits, as well as specific security topics. ASIS also advocates the role and value of the security management profession to business, the media, government entities, and the public.