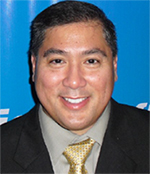 Brian Tuskan oversees global strategic development, integration and growth for Security Technology, Investigations, and Communications for the Microsoft Global Security team.
With 13 years of service at Microsoft, Brian has led other Global Security teams, including Global Security Operations, Event Security, Retail Security and the build-out and implementation of the three Global Security Operations Centers located in the US, UK, and India.
Brian Tuskan joined Microsoft in 2000, after serving more than 12 years in law enforcement with the City of Redmond law enforcement(Washington) and the Honolulu Police Department.
At Microsoft:
As Senior Director of Microsoft Global Security, Brian Tuskan focuses on strategic development of global teams, process, programs and initiatives. He oversees physical security / life-safety, field operations services for global campuses, operational incident management, emergency response plan execution, as well as special event security for Global Corporate Sales & Marketing / Corporate Business Groups. He directs physical security technology design, development, and integration for the Corporate Enterprise; Global Security Operations Center technology development and life-cycle management; and Corporate Investigations / Threat Management / Workplace Violence Mitigation. Brian Tuskan serves as Public Safety Liaison with executive staff and law enforcement. And he oversees development, incubation and demonstration of the use of Microsoft, and Microsoft Partner technologies in delivering comprehensive and cost-effective physical security solutions on a global scale.
Brian Tuskans Background:
Brian Tuskan joined Microsoft in 2000 after serving eight years primarily as a major crimes detective with the Redmond (WA) Police Department, where he specialized in hightech crime, computer intrusion, crimes against persons, narcotics and fraud investigations. Before joining the Redmond Police Department, Brian Tuskan was an officer with the Honolulu Police Department for over four years, where he served as a patrol officer, a SWAT tactical team member in the Specialized Services Division (dealing with high-risk critical incident response and dignitary/executive protection). He also served as the public/private liaison with the Waikiki Business Association in the Office of Information & Complaint, D-6 Major's Office and the Mayor's office. Brian has a Criminal Justice degree from Wayland Baptist University.