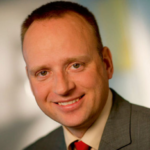 Lars Thinggaard is the President and CEO of Milestone Systems a leading global developer of open platform software for managing IP network-based video surveillance. An open platform solution started in 1998 with over 45,000 installations worldwide.
What do you do for Milestone?
As the CEO and President of Milestone Systems, I am involved in corporate planning, strategizing the organization's development and steering growth processes, investor relations, and key high-level partner alliances.
How did you get involved in security?
I was initially on the Board of Milestone from 1999, just one year after the company was founded. Coming from the IT industry it was easy for me to see the tremendous potential for the security market to convert to IP technology.
How did Milestone get started?
The co-founders John Blem and Henrik Friborg came from a company that developed software for real-time transfer of mission-critical financial data and envisioned bringing the same expertise to analog-based surveillance customers. Milestone just celebrated its first decade in business in 2008 and it was a very successful one where we were able to establish a very strong foundation to build on in the years ahead. Milestone had an international business model from the start, and focused on strengthening our partner channel worldwide – today in almost 90 countries.
I noticed on your web site that milestone is "Fully distributed architecture" can you explain what this means and how it is related to the Milestone open platform?
Milestone software is developed with an open architecture that allows the system to be connected easily to devices and programs made by other manufacturers. Open architectures use off-the-shelf components and conform to approved standards in the IT industry. Conversely, a system based on closed architecture is one whose design is proprietary (single-vendor compatibility only), making it difficult to connect the system to other systems. This open platform is critical for allowing the most flexible and future-proof solutions for customers: they can fulfill their needs today with a combined best-of-breed system and know that their investment pay off in the future as well, by the ability to scale up in size and capability through integrations with other systems as new innovations come along. No one vendor can keep up with the pace alone. This is also why our partner alliances are so important.
Will Milestone be developing analytics or collaborating to include deeper analytics in your offering?
We already offer a license plate recognition solution, but more importantly, last year we launched the Milestone XProtect Analytics framework which allows multiple analytics products from different vendors to be combined, viewed and managed in one simple interface. Enabling users to easily integrate various intelligent video analytics – both at the edge and at the server – helps decrease false alerts, reduces operating costs, makes the system much easier to operate, and ultimately increases safety.
Can you elaborate on the types of analytic offerings?
We work with Milestone Solution Partners who develop all kinds of analytics: trip wire and perimeter detection, object detection (left or removed), motion direction and speed, face recognition and other biometrics, license/number plate recognition, people counting, and many more.
What is Milestone looking at doing next?
Only 20% of the market has converted so far from analog to IP so there's still a huge potential to convert the remainder over the next 5-10 years. We want everyone to be able to take advantage of the freedom of choice for best-of-breed and future-proof solutions that our open platform provides. We will be opening more offices to support our partner channel and continuing to develop innovative solutions and integrated offerings for customers.
What are the most significant changes you have seen in the security market?
The demands from the market have been increasing over the years, especially from larger size installations like public transportation projects and city surveillance needs to combat evolving security issues. Technology advances in chips are lowering the costs of storage, and offerings such as analytics, megapixel cameras and H.264 compression are also helping to drive the IP transformation.
What do you believe security (or security video) will look like in the future?
There's a lot of talk about standards now and this refers especially to the hardware side of the business. Milestone is involved in both the PSIA and ONVIF work where we will support their standards when they are ready. Today, we have a large and very busy device support programming team that ensures our XProtect software works with the widest choice of network hardware – over 500 models from 50+ manufacturers
As power is moved toward the edge devices or appliances, does Milestone have any plans to move in that direction?
Milestone open platform software allows the flexibility for partners and customers to work with video and analytics that derive from any source – edge, database or server – wherever the innovations may come. We also have agreements with important appliance partners like JVC who deliver our software integrated within their hybrid NVR offerings.
What advice would you give a student who was looking at entering into the security market?
There is super potential in such a growth market, career-wise, since it is above other industry forecasts. Even with the current financial conservatism, no one doubts that the move from analog to IP will continue. And software is the key to this revolution, not the hardware, which manufacturers are realizing
If you had to select a product (other than Milestone) from the perspective of a security decision maker, what would that product be? Why?
It would obviously depend on the needs of my organization, but in general I think the mobile video solutions are very cool like those made possible by our Milestone Solution Partners Lextech Labs with the iPhone and MobiDEOS with Blackberry interfaces to our XProtect video management. Especially for first responders who can benefit from real-time information when reacting to incidences: crucial information helps them do their jobs better and even reduces problems by helping them react more appropriately and faster – before things can escalate.
About:
Milestone Systems is a company in fast growth, and that growth has been organic in response to the rapidly growing market demands of the security industry.
The Milestone open platform solutions for IP video surveillance continue to be on the forefront of developments in the security industry, sold and implemented through an international channel of authorized partners. These efforts have garnered thousands of satisfied customers in a wide spectrum of businesses worldwide.
www.milestonesys.com