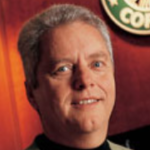 Francis D'Addario is an Emeritus Faculty member for the Security Executive Council. His security teams have set private sector benchmarks for security improvements, including violence reduction, profit contribution, and engagement at Starbucks Coffee, Hardees Food Systems, Jerrico Inc, and the Southland Corporation.
Francis commenting on his new book 'Not a Moment to Lose…Influencing Global Security One Community at a Time' he said "It is an anecdotal approach to remind us that natural and man-made risk is mitigatable if not preventable."
When did you know security was your calling?
It took a while. Like most people my professional journey was a series of opportunistic coincidences. As a student at Antioch College majoring in Urban Problems, and part time Vietnam War protester, I found my work study in the Baltimore City Police Department. I later observed to colleagues that I was one of the few to experience mace and pepper gas on both sides of a police line.
After collecting an Associate of Arts in Law Enforcement Administration I learned why Thomas Wolfe maintained "You Can't Go Home Again". I returned to Buffalo, New York, with my high school sweetheart and bride, accepting my first private sector security job with Sears and Roebuck. Located in proximity to two methadone clinics, our security efforts were partially credited for turning around an unprofitable store. I learned early on that risk mitigation enabled profit. Counter-intuitively our opportunity for internal embezzlement proved greater than the burglary, larceny and robbery threats posed by outsiders.
My wife's superior intellect allowed her to ace a federal civil service test for a promising appointment with OSHA in Washington DC. I tagged along, joining the campus police department at George Washington University to pursue a Masters in Forensic Sciences. I wrote an article on the Survival of the Urban Retailer for ASIS and placed second in the annual student paper competition.
I survived my first crisis as a campus police supervisor when the Hanafi Muslims took over three federal buildings and nearly 200 hostages. George Washington University Medical Center was the triage point for the injured. Three of my best officers were ironically Hanafi Muslims. Their failure to report for duty during the 'siege' provoked significant interest in the intelligence community. My second published article, on emergency preparedness, evolved shortly thereafter.
I soon learned that you could not collect a Masters of Forensic Sciences without a baccalaureate. Louise was expecting our first child. In short order I was recruited by the Carlton, a boutique hotel at 16th and K, two blocks from the White House. That was during the Carter Administration. Hotel security wore chic English morning suits, cuff mikes and ear pieces. The metrics were food and beverage costs, room burglaries…a far cry from the Part I crimes of the grittier urban employers.
One afternoon a motorcycle messenger came into the hotel with a suspicious package for a guest. The addressee was a Turkish diplomat. The government agent responsible for the guest's protection decided the envelope was not 'sufficiently suspicious' to detour its delivery. I relied on my relatively inexperienced perception of the exceptional nature of the delivery, and discreetly moved it out of the lobby to a safer location. The DC bomb squad confirmed it was a letter bomb and detonated it on their range. That's when I found my calling.
Did you have a career plan?
Not really. I was a new dad with a little girl, a little experience, and some related education. I looked to leverage what I had for larger opportunities.
I was successfully working two management jobs at the hotel and medical center when I received a recruiter's call for a job at 7-ELeven as a Division Security Manager. I was the youngest of twenty hires at that position in North America. I read everything about security I could get my hands on, took every class, and personally responded to every robbery at a 7-Eleven in DC, Maryland, Northern Virginia, and West Virginia. It was about the same amount of effort as two jobs and two courses per semester. The experience was invaluable. Our robbery and asset recovery numbers were noticed. Importantly, we did not have a robbery fatality.
In less than two years I found myself interviewing for the top job at Southland Corporation. I didn't get it but I was promoted to a newly created number two position. Louise and I collaborated on a son that year and we both realized I didn't know a thing about negotiating a raise. Money was tight. I had the privilege of working with a terrific team that included researchers from the Western Behavioral Sciences Institute. Their 7-Eleven robbery data analysis made possible our 75% reduction of robberies and more than a 90% reduction in homicides.
Safes were moved from back rooms to customer transaction stations at the front of the store. Time delay coin vending and drop boxes enabled cash control. Lighting was boosted, merchandise gondolas lowered, and signage was cleared from windows to give stores a vigilant look. Push and pull decals reminded customers (and criminals) that the cashier had no more than twenty dollars in change on hand. Door frame measures enabled clerks to accurately gauge the height of suspects. Dos and don'ts of violence avoidance re-enforced a mandatory training film to reduce injuries and fatalities. Bait bills enabled police to recover suspects with tangible evidence leading to convictions.
I landed my first director of corporate security job at twenty nine for Jerrico Inc. in Lexington KY and earned my Certified Protection Professional (CPP) certification by exam as soon as I was eligible. Our entire ASIS review group passed the exam. I was later honored by Milt Brown, director of the National Crime Prevention Institute with an invitation to teach at the University of Louisville's NCPI. That where I met Bob Hayes (now managing director of the Security Executive Council) and Tim Crow (an internationally acclaimed crime prevention through environmental design (CPTED) enthusiast, and other gifted security types.
By then Pat Gerstle, an IBM programmer and I had collaborated on LossVision one of the early automated loss reporting software programs. My first book 'Loss Prevention through Crime Analysis' followed. It was one of the first books to actually share the numbers to make the case for security investment ROI. My career plan was to incrementally expand my protection influence. Louise brought our Blue Grass baby girl into the world to make certain her older siblings had real responsibility to share.
How do you think the economy will affect the security industry?
Worldwide employment dislocation will create an opportunistic environment for organized crime, disorganized crime and lapses in all-hazards detection and mitigation capabilities. Cut-backs and funding pauses will initially hamper nimble response to emerging threats. Reported and unreported crime will rise. Profit margins will thin and market share will risk reductions in the face of counterfeiting, internal theft, and protected information espionage. Arguably avoidable injuries and losses will push brands to higher levels of prevention and mitigation investment. Security and risk mitigation investment will roar back for those who measurably differentiate their capability to protect people, core processes and technology to meet anxious stakeholder expectations.
Do you see any new technology affecting the security industry?
Definitely…innovation will be the byword for integrated, multi-layered, authentication of trusted agents, financial transactions, supply chain logistics and data protection. Exception reporting documented by digital recording and risk event corroboration will drive 'just in time' mitigation deployment. Perhaps more importantly, these technologies will also facilitate customer authentication, delivery accuracy and core process throughput for speed of service and transaction accuracy including credits and debits.
Technology and specifically IP is changing security devices and how they are deployed. What do you think are the next big changes we will see?
Perimeters risk detection will be extended beyond traditional 'Bricks and Mortar' boundaries. Counter surveillance capability will be enhanced for both physical and logical environments. Active directories will be re-authenticated for multi-factor recognition integrating voice, facial and other biometric recognition capabilities against credentials, and access permissions. Consumers, associates, partners, and stakeholders will demand identity protection, effective fraud deterrence and accountability.
Do you see wireless impacting security in general?
Wireless is the key technology for extending perimeter protection peripherals beyond traditional boundaries. The need to recognize mass transit risk four sectors out from main hubs will drive some considerations. Protecting first responders with hands free communications capable of documenting adversarial persons or conditions will be another. Core process customer efficiency will drive concierge services and transaction queue management while deterring criminal behavior.
What do you see as the security industry's biggest challenge?
I see three… 1.The coincidence of natural phenomena including high morbidity pandemic and global warming that will tax all-hazard mitigation resources. 2. The reluctance of highly capable organized crime and terror organizations to give up what Moises Naim and others estimate as a multi-trillion dollar 'illicit' economies (arms, drugs, humans, information & money laundering) without a fight that will imperil people, governments and networks) 3. Apathy and negligence
What do you believe is the largest growth area in security?
Knowledge…good and best practices must be innovated, measured and shared in trusted communities to advance people, process and technology protection. Our adversaries to date have proven more nimble to adapt all for risk exploitation. True intelligence fusion and mitigation capability between public and private sector can and must level the playing field to ensure resilience.
After 7-Eleven we built capable people and asset protection teams at Jerrico and at Hardees Food Systems. Despite having extremely competent staff I took the lead on every injury or crisis. That was sixteen years of major crimes including homicides. Following the suicide of a colleague I invited Bruce Blythe of Crisis Management International in to help survivors cope with the aftermath. My personal epiphany was that I could remember the names of victims and family survivors for all of the tragedies in chronological order. I had not consciously made an effort to do that. The recall moved me to tears.
I was always empathetic. I felt blessed to be with teams capable of moving the numbers and making the environments measurably safer but I was too busy to make it my business to put a spotlight on the risks and remedies. The Manager's Survival Guide helped me do that.
The organizational messaging was not just that crime prevention was the nice or even the right thing to do…it was also a strategic means for continuous incremental profitability. The approach works for giant multinationals and small businesses alike.
What is your new book about?
It is called 'Not a Moment to Lose…Influencing Global Security One Community at a Time'. The Security Executive Council will bring it to print next month. It is an anecdotal approach to remind us that natural and man-made risk is mitigatable if not preventable. It is the humanist approach to influencing up, down and laterally within the organization as well as out and over traditional boundaries.
I attempt to remind the reader that resilient communities survive all hazards. Less resilient communities falter. Major international enterprises and government sectors are just know learning the critical dependencies of disparate communities that connect for supply chains inventory, intellectual assets, products, and service capacities. Boards and their directors are beginning to appreciate their liability for compliance and accountability for stakeholder prosperity.
My book makes the point that people, process, and technology are not coincidental to risk mitigation. I claim that people centric organizations are likely to have higher engagement for both process and technology to protect themselves and their respective communities. I attempt to make the persuasive case for benchmarking risk mitigation solutions, and measuring return on security investment for both physical and logical protection.
My years with Starbucks Coffee as director and then vice president of the global Partner and Asset Protection team informed my approach. I hope the blend of both personal and professional experiences encourages others to tell their stories, make their points, and influence others to be prepared for all hazards starting at home, in the community and throughout their organizations. At the end of the day we must be conversant with risk and mitigation and have the leadership courage to innovate, adopt, jettison, or improve solutions.
Endeavor to help others understand that brand reputation is only earned when the organization ethically attempts to protect the legitimate interests of all stakeholders including but not limited to alliances, associates, clients, communities, contractors, customers, investors, partners, and product or service providers.
About
Francis J. D'Addario, CFE CPP
Emeritus Faculty
Strategic Influence and Innovation
Security Executive Council
Francis D'Addario served as the vice president of Partner and Asset Protection for the Starbucks Coffee Company (1997-2009); Director of Loss Prevention for Hardees Food Systems (1990-1997), Director of Security for Jerrico Inc. (1981-1990), and as a Regions Manager for the Southland Corporation (1978-1981) where he endeavored to 'protect people, secure assets, contribute margin' for global markets. His teams are credited with benchmarked results for crime prevention, profit contribution, professional engagement, and violence avoidance. Francis has more than twenty five years in public safety and strategic security management. He is a Certified Protection Professional, Fraud Examiner, and Community Emergency Responder.
Francis is a senior advisor for the Security Executive Council. He served as a project team member for the development of ISO 28001 an International Standardization Organization (ISO) supply chain security guideline. He is the recipient of recognitions including the CSO (Chief Security Officer) Magazine 2007 Compass for protection innovation, the National Food Service Security Council's Lifetime Achievement and the Spirit of Starbucks awards. His new book Not a Moment to Lose: Influencing Global Security One Community at a Time will be published by the Security Executive Council in 2009.
His publications include Loss Prevention through Crime Analysis (Butterworth's 1989) and The Managers Violence Survival Guide (CPA 1995). He co-designed LossVisionä, a copyrighted loss reporting, investigations, analysis, and asset recovery software program; as well as Safe and Soundä, an interactive 'workplace violence' training curriculum marketed by Learning Dynamics. He co-chaired the business committee for 'Three Projects/One Community' a $29 million capital campaign to provide West Seattle with permanently affordable facilities for food, social services, low income housing, and the arts.
You can contact Francis at: fdaddari@secleader.com