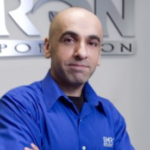 Imron Hussain is the Owner and President of Imron Corporation. Imron has approximately 20 years of experience in the security industry.  He was Chief Engineer and part owner of Westar Systems in 1993 where he developed the first Windows based software to manage access control, intrusion, fire, and video under a single interface.  The software was overwhelmingly successful and was installed at IBM, Symantec, Xerox Corporation, MGM (Metro Goldwyn Mayer), Rysher Entertainment, Warner Bros. Studios, Walt Disney Company, Wells Fargo Center Los Angeles, Bank of America and several other buildings in downtown Los Angeles.  Westar was then purchased by Hirsch Electronics to obtain the first generation of integrated access software. The purchase by Hirsch enabled Imron to start IMRON Corporation
"Over the past 20 years, the security industry has grown tremendously utilizing
innovative technologies that offer cost-effective, efficient solutions and
Imron Corporation continues to push this envelope."

What do you do for the Imron Corporation?
I am the company founder, and I oversee all operations of the business. For the past 12
years we have established ourselves as a leader in providing innovative
security management solutions with a special focus towards Access Control. Our
award winning flagship product, IS2000 manages Physical and Logical Access Control,
with Video and Alarm systems, combining all security needs into one powerful
system. Our solutions have been deployed to thousands of locations worldwide,
from government facilities, airports, commercial high rise buildings,
hospitals, universities, and much more.
How did you originally get involved in the security market?
I began working as the Chief Engineer and part owner for a company called Westar
Systems, where I was the first to develop a 32-bit Windows Access Control
application for the Industrial Security Industry back in 1993. The product was
a huge success and as a result of that, Westar Systems was acquired by a larger
access control manufacturer.
Why access control?
Access control is such an essential part of physical security because it manages who,
where, and when someone can access a particular area or resource. Over the past
20 years, the security industry has grown tremendously utilizing innovative
technologies that offer cost-effective, efficient solutions than in the past.
Imron Corporation continues to push the envelope in growing the industry by
applying these newer technologies in ways that can not only save money, but
also provide a more safe and secure environment.
What do you see changing in the access control market over the coming
years?
The Access Control market is finally making its shift into the IT world with
enterprise systems that manage multiple facilities and traditional access
control hardware has made its way to support a more IP centric network
architecture.
What is the biggest challenge to the security market today?
Bridging the gap between the old traditional security models and the newer ways of
thinking that utilize newer technologies to manage security.
What is the latest Imron application?
Our flagship product, IS2000 has added many new features. It's ability to manage
multiple access control hardware platforms from one easy to use software
interface allows it to be the ideal solution for new installations as well as
retrofits for existing access control sites. IS2000 supports more Access
Control hardware platforms than any other product on the market. In addition it
now supports thin clients accessible via any browser or mobile device. New IP
readers, such as the HID Edge readers allow for intelligence at the door, and
our new IS100 embedded web application provides a complete access control
solution without the need for a dedicated host PC.
How is the economy affecting your plans for future development?
We've  seen more requests for offering managed access solutions where our customers
centrally manage multiple end-user sites and provide their services on a
subscription basis providing web access for each of their customers.
Why would a company choose an all in one access control system
rather than selecting individual "specialty" products?
With an all in one access control system, the operator requires less training and can
perform tasks more efficiently than having to deal with multiple systems and
multiple VARs. In addition, the overall costs are significantly more for
separate systems than one cohesive system that seamlessly integrates them all
together.
Imron was custom/privately branded by other companies?
Yes, Imron Corporation originally started as a software only company developing solutions
for the largest access control manufacturers in the world. In 2003, Imron
Corporation expanded its business model to include complete systems. We still
offer our custom/privately branded solutions to other manufacturers.
Things are changing fast in the hardware market; do you see any
new products or companies that are defining the future of access control?
Yes, HID is at the forefront in our industry with solutions that provide convergence of
physical and logical security and IP based readers that offer intelligence at
the door.